Education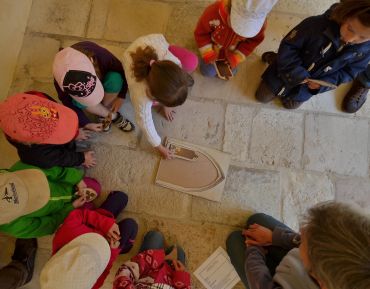 We engage in public education activities with the organisation of workshops in schools and colleges. Each year over 400 students benefit from working with professional artists in their classroom or at Ambronay. Song, dance, photography, heritage discovery and theatre, as well as storytelling and calligraphy, are on the programme, according to the specialisms of each teacher.
In 2009, the Cultural Encounter Centre signed a partnership agreement with 11 educational establishments: this partnership has as its aim to facilitate new artistic projects and to contribute to the acquisition of cultural skills through a long-term partnership.
During the Festival, photographic and musical work produced by the students will be exhibited in the Abbey cloisters.
Projects of introduction, of communication: proposals:
Here is the menu – the choice is yours…
Musical
- Introduction to early music though the discovery of its instruments and repertoire.
- Song, percussion and instrumental performance.
- Creation of sound worlds and musical accompaniments.
- Sound recording techniques.
Dance
- Explore the body and its movement in space.
- Learn the steps of traditional dances.
- Performance of simple choreographed routines.
Storytelling and the theatre
- Learn the art of storytelling and develop your imagination.
- Work on the voice, intonation and gestures.
- Discovery of folk beliefs and mythologies.
- Improvisation.
- Study of texts and poems.
Visual arts
Photography
- Camerawork, altering the image.
- Putting together a slideshow, exhibition or flipbook.
Calligraphy
- Creation of illuminated lettering and dropped initials.
- Discovery of roman, gothic and Carolingian calligraphy.
Subjects studied
Musical education, visual arts, history, physical education, French, maths, technology, earth & life sciences, languages, physics.
Creative outcomes
Exhibitions, CDs and DVDs, performances, concerts etc.
---
---
---
---