Les Impromptus de l'été
Le Centre culturel de rencontre d'Ambronay vous invite aux deux Impromptus de l'été avant le Festival ! Venez écouter The Goldfinch Ensemble le 7 juillet puis les participants du projet "As-tu vu Monteverdi... ?" & l'ensemble Continu-um le 13 juillet !
› Impromptu n° 5 : The Goldfinch Ensemble
The Goldfinch Ensemble fait partie du programme eeemerging (ensembles européens émergents) et sera en résidence au Centre culturel de rencontre du 1er au 10 juillet. Ces 3 musiciens (violon, flûte baroque, clavecin) se sont rencontrés au conservatoire de La Haye. Au programme de cet Impromptu : sonates en trio de J.S Bach, C.P.E Bach et J.G Goldberg.
— Vendredi 7 juillet, 19h | Salle Monteverdi.


› Impromptu n° 6 : "As-tu vu Monteverdi... ?" & Ensemble Continu-um
Nous vous avons concocté un Impromptu spécial avec au programme :
- La deuxième étape du projet « As-tu vu Monteverdi... ? ». Une quarantaine de participants, encadrés par Pierre-Louis Rétat, Cécilia Knudtsen, Capucine Keller et Giulia Riili, vous présenteront leur travail autour du compositeur. Un projet haut en couleur ! – 40 min.
- L'ensemble eeemerging Continu-um. Le langage musical de l'ensemble oscille entre ancien et moderne, XVIIe et XXIe siècle, connaissance et innovation, musique vocale et instrumentale – 40 min.
— Jeudi 13 juillet, 19h30 | Abbatiale.
---
Entrée libre sur réservation au 04 74 38 74 04, dans la limite des places disponibles.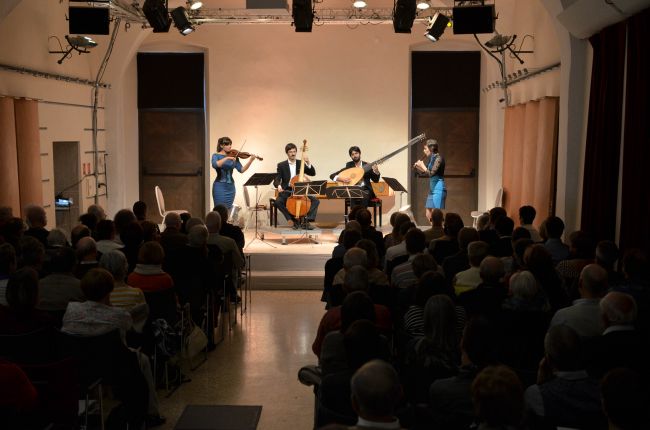 PRISMA
©Bertrand Pichène
---
---