SICILY, A WORLD OF MUSIC
from Thursday 21 July 2011 to Wednesday 27 July 2011

21-27 July 2011 : A week of music at Ambronay with Leonardo García Alarcón.
Following the huge success of Michelangelo Falvetti's Il diluvio universale at the 31st Ambronay Festival, Leonardo García Alarcón plans to perform the work once again at the forthcoming Ambronay summer course.
Michelangelo Falvetti's oratorio will provide the prism through which we discover Sicily in its entirety, notably the monodies and madrigals of Sigismondo d'India, the unpublished oratorios of Alessandro Scarlatti and Buonaventura Rubino's outstanding Requiem.
Instrumental music will be well represented by the remarkable works of Pietro Del Buono and a large repertoire of sonatas and consort music in the new Neapolitan style.
This course is aimed at a new generation of talented young singers and instrumentalists who wish to work in the unique setting of Ambronay Abbey under the supervision of a first-rate team of tutors.
Repertoire:
Il diluvio universale by Falvetti
Madrigals and monodies by d'India
Unpublished oratorios by A. Scarlatti
Requiem by Rubino
Sonatas and pieces by Del Buono
Tutors:
Leonardo García Alarcón, harpsichord, organ and conductor
NN, singer
Fabian Schofrin, countertenor
Anne Milischer, violin
Andrea De Carlo, viola da gamba

Musicians required:
2 sopranos
1 mezzo/contralto
1 countertenor
2 tenors
2 bass baritones
2 violins
1 viola
2 violas da gamba (one to also play violone or lirone)
1 cello
3 harpsichords/organs
2 lutes
1 harp
2 cornetts, also to play recorder
Course fees
500 € (teaching fees, meals and accommodation). A reduction of 20% will be applicable to participants of the Ambronay Baroque Academies of 2008-2011, and to musicians taking part in the Young Ensembles Residencies 2010-2011.
For contract workers, there is the possibility of AFDAS funding.
Accommodation:
Possibility of accommodation at Ambronay (in rooms sleeping 4-6 people).
Arrival of participants: Wednesday 20 July (afternoon) or Thursday 21 July (before 10am).
Departure: Wednesday 27 July (evening) or Thursday 28 July (before midday).
Last update Thursday 21 May 2015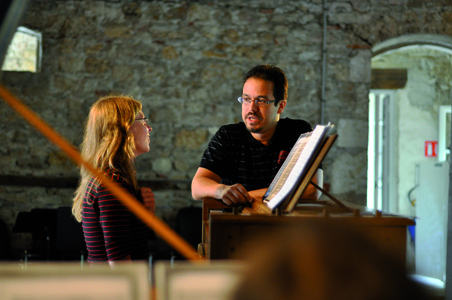 ---
---