The Goldfinch Ensemble en Impromptu le 5 juillet !
Rendez-vous mardi 5 juillet à 19h, salle Monteverdi avec The Goldfinch Ensemble issu du programme eeemerging 2016 (Ensembles Européens Émergents).
The Goldfinch Ensemble est né en 2014 de la rencontre entre quatre jeunes musiciens du Conservatoire royal de La Haye aux Pays-Bas. Composé d'un traverso, d'un violon baroque, d'une viole de gambe et d'un clavecin, L'ensemble s'intéresse tout particulièrement à la musique française des XVIIe et XVIIIe siècles. Dans le cadre de leur résidence au CCR, du 26 juin au 6 juillet, l'ensemble jouera des pièces d'Élisabeth Jacquet de La Guerre et de François Couperin lors de l'Impromptu du mardi 5 juillet à 19h.

L'ensemble donnera également un concert à l'église de Bouligneux le 1er juillet à 20h30. Réservations: ici

The Goldfinch Ensemble :
Noyuri Hazama Violon baroque
Pablo Sosa del Rosario Traverso
Salomé Gasselin Viole gambe
Emmanuel Frankenberg Clavecin
---
Tous les Impromptus sont gratuits sur réservation au 04 74 38 74 04, dans la limite des places disponibles.
Pour en savoir plus sur The Goldfinch Ensemble.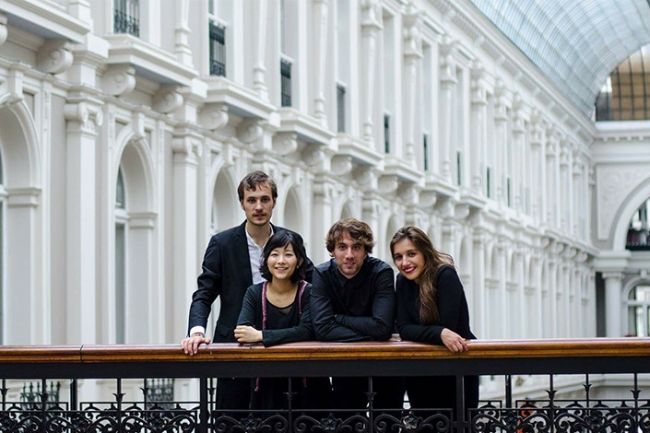 © DR
---
---